Posted by Steffi Paepcke | Dec 05, 2013
Looking for that perfect Christmas present? Look no further. For a very reasonable amount you can buy that certain someone a ticket to hear OSRF CEO Brian Gerkey at The Commonwealth Club of California.

Brian, along with Rich Mahoney from SRI and Steve Henn from NPR, will be discussing "Robots in Unconventional Workplaces."

Date: Wednesday, February 26, 2014

Time: 6:00 pm

Where: SF Commonwealth Club
595 Market Street, 2nd Floor
San Francisco, CA
(directions)

RSVP: Here

Given OSRF's involvement in the DARPA Robotics Challenge, we know Brian will have lots to offer on the evening's topic.
Posted by Brian Gerkey | Dec 03, 2013
Cross-posted from the ROS blog.

When we started work on ROS, like most young open source projects, our greatest need was to recruit early adopters and fellow developers. So we targeted that audience: we built a wiki, filled it with documentation, tutorials, and code examples, and made the wiki the landing page at www.ros.org.

Well, times have changed. Now, six years into the project, we have a broader audience to consider. We want to reach teachers who are considering using ROS in their classrooms, managers who want to use ROS in a new product, journalists who are writing stories about ROS, and many, many others.

So, in celebration (just a bit late) of ROS's sixth birthday, we're pleased to present a new www.ros.org.

After all, a grown-up ROS deserves a grown-up website. Don't worry: the wiki is still there, as are all the other ROS sites on which we depend.

Btw, like most things we do, the website itself is at GitHub. If you run into a problem or have an idea for improving the site, open an issue and we'll have a look.
Posted by Brian Gerkey | Oct 31, 2013
Happy Halloween from OSRF!

Including Jose, in Spain:
Posted by Steffi Paepcke | Oct 31, 2013
For any parents feeling guilty about all the candy their kids will be eating this week, there's no better antidote than a healthy dose of educational fun. That's exactly what's in store this Saturday at the Bay Area Science Festival.

Some of us from OSRF will be bringing a few TurtleBot robots up to San Francisco to take part in the Robot Zoo. The Robot Zoo is a featured attraction at the Festival's Discovery Days at AT&T Park this Saturday, Nov. 2, from 11:00 a.m. to 4:00 p.m.

Organized by Silicon Valley Robotics, the Robot Zoo is taking over Willie Mays Plaza and will feature fellow Willow Garage spin-offs Unbounded Robotics, who will be showing off their brand-new UBR-1 robot, and Suitable Technologies who will be showing off their Beam.

Details, logistics, and more information is here.
Posted by Carlos Agüero | Oct 29, 2013
Open Source Robotics Foundation is a participating organization in the latest GNOME Outreach Program for Women.

In an effort to get more women involved in free and open-source software and robotics, OSRF is offering Outreach Program for Women internships from December 10, 2013 to March 10, 2014. The application deadline is November 11, 2013. Before the application deadline, applicants must get in touch with OSRF to discuss the individual projects they are interested in working on.

Participants will work remotely from home, while getting guidance from an assigned mentor and collaborating within their project's team and the rest of the community. The projects include software development, web development, 3D modeling, user experience, and/or graphic design. Feel free to email us with additional proposals if you do not see one that fits perfectly. The stipend for the program is $5,000 (USD). Any woman who has not previously participated in the Outreach Program for Women or Google Summer of Code is welcome to apply.

Check out the list of potential ideas for the program. Feel free to ask questions and propose suggestions at opw@osrfoundation.org
Posted by Brian Gerkey | Oct 26, 2013
Last week was an exciting one in the robotics community, as hundreds of people and dozens of robotics-related companies descended on RoboBusiness 2013 in Santa Clara, CA; just down the road from OSRF headquarters.

In all the enthusiasm and bot-gawking, we wanted to point out some exciting ROS-related news that might be have been overlooked. Rethink Robotics, the company behind Baxter, enhanced the open source capabilities of their research robot.

The Baxter Research Robot now:
supports MoveIt!, allowing researchers to plan and test trajectory algorithms in a virtual environment before the moves are executed on the robot; and
offers integrated support for Gazebo, the widely used physics-based robotics simulator.
Those of you who have followed OSRF's contributions to the DARPA Robotics Challenge, in particular the Virtual Robotics Challenge are already familiar with the capabilities of Gazebo and MoveIt!, but it's great to see another top-notch robotics company embrace and extend ROS.

We had the opportunity to host Dave Coleman this past summer and witness the rise of Baxter in both reality and simulation. Dave worked closely with Gazebo, ROS, and Rethink to simulate Baxter and develop its controllers. His hard work helped the Rethink team deliver Baxter SDK version 2.0, and added another simulated robot for the robotics community.
Posted by Steffi Paepcke | Oct 14, 2013
Last Friday, UC Berkeley hosted the first ever Stanford-Berkeley Robotics Symposium (SBRS '13). A number of OSRF employees were in attendance, and Steven Peters presented on one of our latest projects combining the use of iPython Notebook with gzweb, a Gazebo WebGL client. His presentation included an inspiring video of a stack of simulated dumpsters falling on a Stonehenge-like arrangement of many giant dual-link robot arms, in front of a typical neighborhood gas station. You had to be there.

Steven was one of approximately 36 presenters, each of whom were allotted 10 minutes to speak. Talks ranged from academic to industry-focused, and covered a broad spectrum of robotics topics from mass-producing robots and robotics consulting, to computer vision and modeling human decision making. Following is just a small sampling of the many great talks from SBRS 2013.

Mark Palatucci of Anki spoke about Anki Drive (available soon in Apple retail locations), and the company's goal of "combining the emotion of physical products with the magic of video games." The Anki Drive project tackles a variety of issues including multi-robot coordination, user interface design, wireless communication, and mass production of robots.

Steve Cousins of Savioke discussed his new company's goal to make robots that help people in human environments. Savioke aims to continue work in the spirit of the Robots for Humanity project begun at Willow Garage. Steve also touched on the power of open source software as a "lubricant" that moves the robotics field forward.

Allison Okamura of Stanford's CHARM Lab presented on her work with patients with cerebellar trauma. Using an exoskeleton robot that tracks movement, Allison and her team are looking at ways to alter limb inertia and correct dysmetria in these patients. The ultimate goal of this and related research is to improve health and quality of life.

Thanks to Oussama Khatib, Pieter Abbeel, Sachin Patil and the other volunteers for putting on such a great event. We look forward to SBRS 2014!
Posted by Brian Gerkey | Oct 11, 2013
Yesterday we hosted a hackathon at the OSRF office with the team from Unbounded Robotics. That makes us some of the first people to get a look at their new (ROS-based) robot!

We're thrilled to support the Unbounded team as they get ready for their big debut, and as they continue to advance the field of personal robotics. From playing with image recognition and object retrieval, to teleoperation with the Oculus Rift 3D virtual reality headset to a 3D robot simulator, our team was excited to get a sneak peak of what will soon be released to the rest of the world. To stay up to date on the latest from Unbounded Robotics, follow them @unboundedrobotx.
Posted by Brian Gerkey | Oct 09, 2013
Morgan Quigley took the stage on Wednesday in recognition of the TR35 Award bestowed on him by MIT Technology Review Magazine. The venue was emTech 2013 in Cambridge, Massachusetts. While Morgan admitted afterwards to a dose of nerves, you'd never know it based on the reaction from the audience.

Following fellow TR35 recipients with expertise in Big Data, a biophysisict working in wind power, and a nuclear scientist, Morgan regaled the crowd with the past, present and future of open source robotics.

The full presentation will be online soon courtesy of Technology Review and we'll update this page as soon as we get our hands on it.
Posted by Brian Gerkey | Oct 07, 2013
Cross-posted from the ROS blog.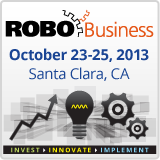 Paul Hvass from the ROS Industrial Consortium has the following reminder:

You will find a number of ROS and ROS-Industrial related events at RoboBusiness:
ROS-Industrial Consortium members' meeting: 9:00 a.m. to Noon on October 23 (details below)
ROS-I Consortium Panel Discussion: ROS-Industrial will be the topic of a panel discussion during the Agile Manufacturing Workshop. The panel will consist of automation experts from Boeing, Yaskawa, and Southwest Research Institute who will discuss current industry trends and opportunities and how ROS-I can accelerate implementation of next generation industrial solutions -- 2 p.m. on October 23.
ROS Matures and Looks Ahead: A presentation by Ryan Gariepy, CTO and Co-Founder of Clearpath Robotics -- 2:45 p.m. on October 24
Building Industrial Robots for Dynamic Response: A presentation by Clay Flannigan, Manager of Robotics and Automation Engineering, Southwest Research Institute -- 1:30 p.m. on October 25
Marrying ROS to External Software: A presentation by Tully Foote, ROS Platform Manager, Open Source Robotics Foundation -- 2:15 p.m. on October 25
SwRI/ROS-Industrial Exhibitor Booth #328: meet in person with SwRI ROS-I experts
ROS-Industrial is an open-source software framework for next-generation manufacturing automation. Be part of the community: Leverage advanced capabilities from the Robot Operating System (ROS) like mobile manipulation, on-the-fly path planning, collision avoidance, grasp planning, and 3D perception for your industrial robots and peripherals.

The ROS-Industrial Consortium members' meeting will precede RoboBusiness. The Consortium is a membership organization providing cost-shared applied R&D for advanced factory automation. Consortium members drive new capabilities in ROS-I by championing Focused Technical Projects (FTPs) based on their near-term automation requirements. The ROS-Industrial Consortium Americas invites you to become a member and participate from 9 a.m. to noon on Wednesday, October 23, 2013, at RoboBusiness in Santa Clara, CA. Attendees will get the inside scoop on:
The progress of ROS-Industrial: MTConnect Bridge, support for new robots, and integration with MoveIt!
Consortium activities, financials, membership, and the progress of RIC Europe
Consortium roadmap presentation and voting
Available FTPs
Registration

Registration is required. Please contact Paul Hvass (paul.hvass@swri.org) for a registration promotional code for early bird pricing of $895 (regardless of registration date) that will alert the event organizers that you plan to attend the Consortium meeting. If you are not currently a Consortium member but are considering membership, please contact us.

We look forward to seeing you there!